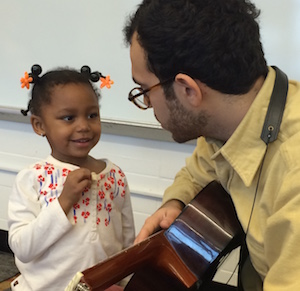 Mr. James has always viewed music as something to be taught organically — something for students to learn with guidance, rather than strict instruction. Even though he's new to new to the Reggio approach, he says the Reggio focus at SWS has encouraged him to seek even more input from students when, for example, choosing or creating a song or creating dance moves.
James Castaneda, or "Mr. James," is in his second year at SWS. He arrived soon after graduating from the University of Wisconsin at Madison with a degree in Music Education. Read more about Mr. James' background.
Exploring the Creative Process in Reggio-Inspired Music Education
He says letting children go through the creative process themselves is as valuable as the end result. When a class of 2nd graders were creating dance moves for a song, they came up with a crazy and elaborate move, with arms flying and twisting, that had to fit into just four beats of music. Mr. James felt that this move might not work, but the kids insisted on doing it. So they tried it, and they realized on their own that it wouldn't work. "But trying things, being comfortable with failing, and then fixing it, is really important."
Watch a short video of Mr. James teaching a PK-3 class:
This past summer, Mr. James attended professional development training in Orff music education methodology, a child-oriented approach which Mr. James says works well in a Reggio-focused school. Students learn by "embodying" music:  they speak the lyrics, add body percussion, then transferring that percussion learning to an instrument (often starting with mallet instruments. "The end product is all of this combined," Mr. James explains. Orff also focuses on the pentatonic scale, a 5 note scale as opposed to the 8 note Western music scale.
Listen to Mr. James explaining the pentatonic scale:
The Big Project: SWS String Orchestra
This year, Mr. James launched a String Orchestra for the 4th Graders. As a cellist himself with a passion for teaching strings to elementary age student, Mr. James has long dreamed about this project.  SWS, because of its Reggio approach, its flexibility, its focus on long term projects and student collaboration, enabled Mr. James make this happen.
Mr. James says 4th grade is an ideal time to start learning strings because kids have the motor skills to pick up things quickly, and at SWS especially, kids have have the collaborative skills necessary for orchestral work. Every morning Mr. James teaches small groups, by instrument, and when students learned the basic, he began holds larger group rehearsals during the school day.
Watch a video of a bass rehearsal with SWS 4th graders:
Mr. James envisions the 4th grade string orchestra as an anchor for his broader approach to teaching music at SWS. As he teaches the lower grades, he is building up a familiarity with scales and other fundamentals so that when students reach 4th grade, they have a strong foundation with which to start playing in the orchestra.