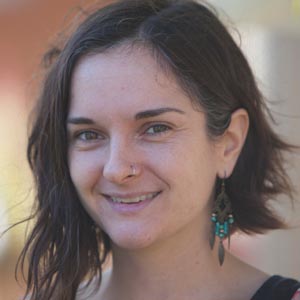 "The thing I love most about teaching/working at SWS is… the incredible partnerships I have with many families and colleagues.  We are always seeking new ways to support the children we work with.
The thing I am most proud of is…. the moments when children look at me with amazement that they can now do something they couldn't do before.
In my free time I enjoy… so many things!  I love to dance, sing, make art, hike, make pottery, study my honeybees, garden, and meet people who are really different from me.
I see my role as a coach and facilitator. I work with children to help them set goals for their learning, and to reflect on their learning over time.  I think that we learn best when we construct our own learning rather than having it spoon-fed to us, and work to create experiences that encourage children to tinker and experiment as they find their own solutions to problems.
Any visitor would see children working in flexible groups and  on different activities that all aim toward the same theme of learning. A visitor would also see that children have a lot of ownership over the space.
---
Ms. Erika, who came to SWS in the 2013-14 school year, brings a background in fine art, photography, and business.  She decided to become a teacher when she found the Center for Inspired Teaching and their teacher certification program. She was so moved by their view of children as capable, creative human beings and their bold vision for what education can look like, that she felt called to teach. Ms. Erika is a Center for Inspired Teaching Fellow and attended Reggio Emilia North American Study Tour in November 2014.