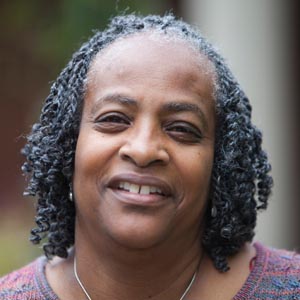 "The thing I love most about teaching/working at SWS is the culture of our school which includes a team of individuals who are committed to working in an environment where the belief is that all children can learn and have a right to an education that acknowledges them as powerful thinkers, capable human beings and co-constructors of their educational experience.  I also love that parents are full partners who take ownership in the support of establishing community amongst the families enrolled in the school as well as building relationships within the surrounding community.
The thing I am most proud of is being a pioneer as a founder of SWS and seeing the ground work that started as a vision between four teachers (John Burst, Sarah Burke, Louise Chapman and I) expand to the school that exists today.  Knowing that our legacy can and will be carried out by our predecessors as we retire.
In my free time I enjoy shopping, spending time with my grandkids, crocheting and reading.  I am an avid James Patterson fan.
I see the role of the teacher as a facilitator who observes and interacts with students to support them in being co-constructors of their learning.  I see the role of the teacher as a researcher and a lifelong learner who takes their cues from their students and incorporates their ideas in the planning of learning experiences.  I see the teacher as a resource who creates a learning environment that takes on the role of a third teacher in their student's learning process.  I also see the teacher as a one who also guides children as they are making informed choices about their learning experiences, values their input and supports their ideas through project work, and conversations that encourages their higher level thinking.
Visitors to my class would see children who are happily engaged in their daily routines.  They would observe a community of learners where children are risk takers and caring individuals.  Visitors would observe that I have created a learning environment in my classroom that is inspired by the philosophy of teaching young children that originates in Reggio Emilia, Italy.  They would notice that the environment is child-centered and intended to support the children's ideas and experiences.  The classroom centers are attractive, bright, thoughtfully prepared and adequately supplied with materials that provide activities for social, math, science and language experiences.  Children are also given opportunities to use a variety of artistic media such as drawing, painting, clay, wood, wire, paper, etc. to make discoveries and deepen their ideas."
---
Ms. Ricks is a co-founder of SWS and has been an SWS teacher since 1995. Her education includes an M.A. in Early Childhood Education from Grand Canyon University (Phoenix, AZ) and a B.S. in Early Childhood Education from DC Teachers College (Washington, DC, now  The University of the District of Columbia).
Her awards and recognition include:
2011 Rubenstein Highly Effective Teaching Award
Masonic Scottish Rite Public Educator Excellence Award, 2001
Member of the National Association for the Education of Young Children (NAEYC) and North American Reggio Emilia Alliance (NAREA)
Participant, Reggio Emilia study tour