Parents contribute their time, talents and resources to help raise the funds necessary to ensure that the SWS child-centered, Reggio-based philosophy continues – including teacher and staff training and development specific to the Reggio Emilia pedagogy that DCPS does not provide. From grant writing, to organizing our annual jazz gala, to making or soliciting financial contributions, parent involvement in raising funds for the school is vital to our unique program. All funds raised to support the school are overseen by Friends of SWS.
Friends' Purpose
The purpose of Friends of SWS to promote and support the ongoing educational programming, staff professional development, and future growth of SWS. Friends fulfills this purpose through raising and managing private funds to augment funding the school receives from the D.C. government.  Through funds raised, Friends is able to support:
Training and development for teachers and professional staff
Teaching assistants in upper grades classrooms
Special offerings at the school, such as the strings music program and FoodPrints
Classroom supplies and equipment that would not be covered by other funding sources
Friends of SWS, Inc. is a non-profit 501(c)(3) corporation that was formed in 2012 as the tax-exempt fundraising organization for School Within School (SWS). All parent-led fundraising activities for the school are overseen by the Friends organization such that all tax-exempt funds raised comply with IRS guidelines. (Friends of SWS EIN is 45-530610; IRS Ruling of tax-exempt status for Friends of SWS is available here,) Friends of SWS does not in any way manage the school's operations, or make curriculum and staffing decisions.
Friends' Leadership
Friends of SWS is lead by a group of Board of Directors comprised of parent and community volunteers.
Friends of SWS Board of Directors
Andrew Kaplan, Chair (parent of Maddie and Ainsley, 3rd grade, and Isla, 2nd grade)
Fatima Goss Graves (parent of Dorian, 2nd grade, and Sebastian, PK-3)
Louise Chapman (SWS founding – and legendary – teacher)
Ariel Jacobs (education management professional and SWS community member)
For more information on Friends of SWS, or to suggest a fundraising activity, please contact Andrew Kaplan, Chair, Friends of SWS (andrewkaplan64@gmail.com or 202-329-1564).
Learn more about how to support our school's fundraising
Friends' Income & Expenses
Friends of SWS raises funds through our annual SWS Gala & Auction and an annual giving campaign, grants, and other fundraising and private giving efforts.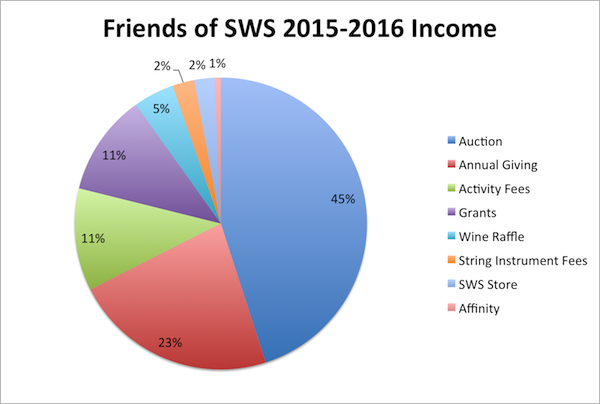 In the 2015-16 school year, Friends of SWS directed funds predominantly to classroom assistants in the upper grades, classroom supplies and manipulatives, professional development for SWS staff, library materials, support for the SWS music and FoodPrints programs, and technology. (Note: Expense items do not necessarily reflect the total expense in a given area or the total cost of a program, only the budgeted amount over and above any other funding sources for the year.)