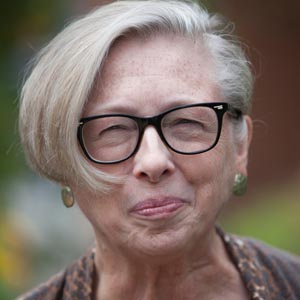 Ms. Barbara Ochmanek, who came to SWS the fall we moved to the Goding building, has been steadily building our school's library collection and programming to foster a love of reading and support literacy skills and classroom projects across the school.
Starting with a small set of materials left at Goding, she has added to the collection with grants, support from Friends of SWS, and proceeds from the book fair each year. When selecting materials, she takes into account student interests, classroom curricula, and a balanced library collection. The most popular student request is graphic novels. In fact, SWS was just awarded a $1000 Capitol Hill Community Foundation grant just to add this genre to the SWS library collection.
Helping students experience the library in age-appropriate ways
With the early childhood students, she has story time and does songs and finger plays. She lets them browse and learn through their own exploration. "They are learning that things have their place in the library," she says. In addition to having Library as a special, the older grades have access to the library to support their classroom projects, and they are free to come in before school and mid-day to browse and check in/check out books.
Following one of the key Reggio principles — "the environment as the third teacher" — the library is a teacher at SWS: "Students learn to browse and navigate the structure of a library, and translate that to using the public library," says Ms. Ochmanek.
Building a community of readers
Ms. Ochmanek also runs a variety of programs to cultivate and support a love of reading as well as literacy skills. These include Accelerated Reader (software to assess reading comprehension for upper grades), summer reading, and a Newbery Club for 3rd and 4th graders where students read four Newbery Medal books over four months and come together with Ms. Ochmanek at the end for a club meeting and field trip. "We are creating a community of readers here at SWS," she says. "It's exciting!"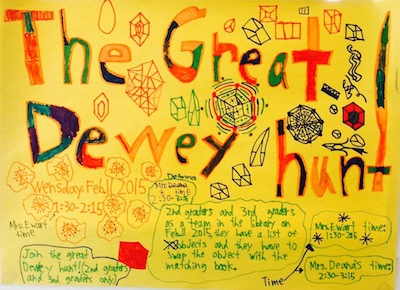 One of her favorite projects with the students was working with 3rd graders on turning a novella, Mr. Lincoln's Boys, into a graphic novel. She helped the students figure out how to retell the story, paying attention to the main ideas, supporting details and sequence of the story.
Coming up in February, Ms. Ochmanek will again lead the "Great Dewey Hunt," which is becoming an SWS tradition. Third graders learn how to find non-fiction books according to the Dewey Decimal System then they get the 2nd graders in the game by putting on a Dewey treasure hunt for the them!
Read more about Ms. Ochmanek in her SWS bio.